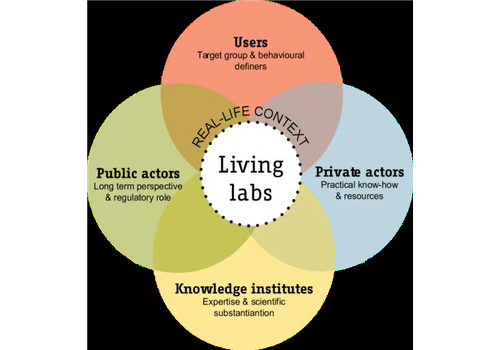 Living labs combine users, private actors, knowledge institutes and public actors in real-life context and Living labs are central in an ecosystem and establish a circular model. The success of the living lab concept is based on its collaborative framework and management of an ecosystem with multiple stakeholders. These parties include: Governments, academia, innovator, industry, incubator and facilitators of the collaborations. The European Business and Technology Centre (EBTC) as the technical cooperation partner along with its associate Amsterdam Innovation Arena brings proven and successful models as well as frameworks for the living lab concept. The Amsterdam Innovation Arena living lab is based in the Johan Cruijff ArenA, (a multi functional stadium in Amsterdam) is considered a very relevant best practice where the Public- and Private sector together co-created the concept of living lab where on the base of predefined themes, solutions and technologies are developed, tested in a live environment and scaled up to the city to cater to real urban challenges.
The Building on the Smart Campus @ IIITH Smart City Research Center is based on the following Objectives:
Connect with academia worldwide that also work on living labs and exchange experiences.
Living lab to be a platform for research/students to work on relevant industry driven projects and a Opportunity to connect students directly to the ecosystem in this thrilling environment.
Creation of a viable innovation and demand driven ecosystem in universities.
Helping startups in creation of proof of concept, scaling up and commercialisation local & global.
Enhance the effective linkage of urban challenges as well as government initiatives.
Identify the demand of the lab environment and the urban local bodies.
Establishing a well managed and transparent governance system.
Local/international industries as the driving force for the Living Lab.
Establishing a circular economy model by bringing together relevant stakeholders across sectors and disciplines from both India and Europe.
Consolidation of both grass-root as well as top-down mechanisms for innovation and entrepreneurship working towards a viable circular economy model that is measurable.
A Living Lab can be seen as a system that interacts with its surroundings and its stakeholders, continuously redesigning itself in a short-cycle iterative way, in a continuous process with no predefined end date – change is the only constant. The iterative process of generating and applying intelligence, forms the core of smartness: data are converted into information, information to knowledge, and knowledge is then translated into smart actions, which generates data and so on. A combination of formal science and research, traditional knowledge, common sense, proven methods, new corporate innovative solutions and the use of new disruptive technologies are needed to pave innovative pathways. Besides that, a Living Lab can be characterised by its monitoring and 'selflearning' capabilities, leading to a constantly updating and redeveloping smart city initiatives. A Living Lab must balance and harmonise social, economic and environmental needs and values, for example in line with the UN Sustainable Development Goals and India Smart City Mission. The three major pillars of the Living Lab are:
Smart campus: Infrastructure-70 acres with 2 million sq ft space. Live campus, with 4000+ occupants, research labs and 250 startups. Sensor, controls and data infra in place for innovators to use/test.
Research: 22+ research centers. 6 directly related to Smart Cities. To trake up reserarch projects immediately relevant to smart city use cases.
Innovation: Incubator for startups working on Smart City solutiopns. Tech companies with solutions that can be validated in the Living Lab.
The 3 innovation development phases of living labs are as follows:
Exploration: This phase focuses on getting to know current state and proposing the future states. It is the process of moving from idea to concept or prototype of the solution.
Experimentation: This is the real-life testing of one or more proposed future states. It deals with developing and experimenting with the prototype.
Evaluation: This phase is to assess the impact of the experiment on the current state to iterate the future state.
Living Labs follow a multi-method approach. These are intermediaries between the citizens, research organizations, private companies and academia for co-creation, rapid prototyping and validation to scale up innovation. It is a place where businessmen, technologists, artists, citizens and public sector organizations come together and address local challenges. It is a social process. The operationalization of the Living Lab distinguishes itself from other approaches (such as usability research) by confronting users with technology (e.g. a prototype or a proof of concept) early in the innovation process within their natural or real-life environment and by regarding users as the coproducer of technology.